Pediatric Chiropractic at Blue Wing Chiropractic, LLC
Why Do Kids Need Chiropractic Care?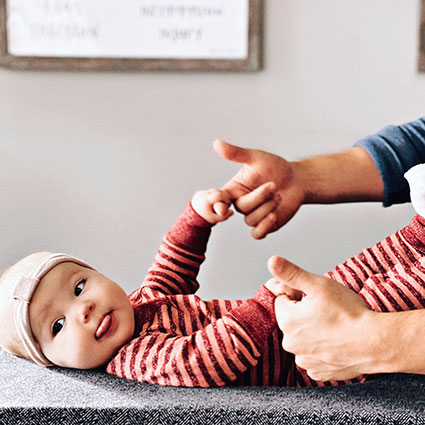 The birth process puts an enormous amount of pressure on babies' tiny structures, resulting in misalignments and trauma to the nervous system. By adjusting newborns, we can help remove these misalignments before they have a chance to cause health and functional issues.
An adjustment on an infant is incredibly light, using the pinky finger to apply minimal pressure. It's safe and completely painless, and we can adjust infants while Mom or Dad is holding them, so they feel cozy and comfortable the whole time.
Using Technology to Target Treatment
Because kids grow so quickly, it's easy for misalignments to occur, resulting in nervous system interference. With older kids, it's often a change in behavior that causes parents to seek our care. You know your child better than anyone, and if something seems off to you, you're probably right. Our safe INSiGHT™ scanning technology, which doesn't use radiation, helps us locate the areas of the nervous system that are affected, so we can target treatment where it's needed.
Making Kids Comfortable
Blue Wing Chiropractic, LLC is warm, inviting and kid-friendly. We let them play with kid-sized adjusting toys, so they can "adjust" some stuffed animals. And if you're seeking care for your child's behavior or attention issues, don't worry. We know kids can't always sit still or follow directions, and that's something chiropractic can help with.
One of our favorite success stories is a young boy whose parents brought him in when he was 6 because he'd stopped talking and avoided eye contact. After about five visits, the child came running into the office, gave Dr. Jonathan a big hug and opened up, telling him about his day. His parents were thrilled to have their son back. We love helping kids live their best lives.
Conditions That Benefit From Chiropractic Care
As Pediatric Experience (PX) providers, we care for kids of all ages with any type of condition, including
Torticollis
Difficulty latching
Constipation
Ear infections
Sleep problems
Colic
Asthma
Reflux
Allergies
Bedwetting
Headaches
Anxiety
Stress
Depression
Attention disorders
Behavioral issues
Get Started Today
Get your child on the path to optimal wellness. Contact us today to schedule an appointment!
CONTACT US
---
Pediatric Chiropractic Longmont CO | (720) 340-4435