About Blue Wing Chiropractic, LLC
Moving West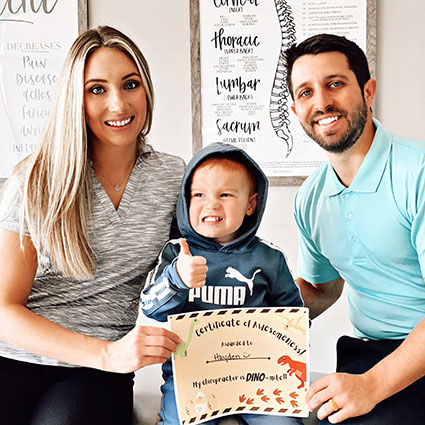 Dr. Jonathan Maczko and Dr. Kendra Fitzke met when they were students at Palmer Chiropractic College in Iowa. Their first interaction was an argument over whose dog was cuter—concluding that both dogs were adorable, they married a few years later.
After graduating in 2018, they practiced in Nebraska for a few years. Dr. Kendra has family in the Longmont area, so eventually, they decided to make their way west, toward the mountains and the outdoors that they love. They opened Blue Wing Chiropractic, LLC in 2021 to share their vision of health and wellness with as many families as possible.
Like Walking into Your Best Friend's House
Our office is warm and inviting, with a lot of natural light pouring in through big windows. The beautiful hardwood floors are covered with rugs, and we have comfy couches in the waiting area. People feel calm and relaxed here, knowing that it's a kid-friendly space. We want it to feel like hanging out at your best friend's house—except with unparalleled chiropractic care along with the coffee.
Focusing on Families
While practicing in Nebraska, both Dr. Kendra and Dr. Jonathan realized that the patients they were most excited about treating were kids and young families. Helping expectant moms have easier pregnancies and more efficient deliveries through regular chiropractic care doesn't just help the mom—it also helps the baby get the best start possible in life. And helping restore proper nervous system function in kids helps them focus better, sleep better and boosts their immune systems so they feel better.
When one member of the family is struggling, it has a ripple effect throughout the entire family. By helping restore health and function to even one person, it can help the entire family function better.
MEET THE DOCTORS
A New Take on Life
Blue Wing Chiropractic, LLC gets its name from a blue butterfly. Blue butterflies symbolize rebirth, regeneration and a new meaning to life. Our goal is to provide our patients and their families with health and function to give them a new take on life.
Get Started Today
Contact us today to schedule your first appointment!
---
About Blue Wing Chiropractic, LLC | (720) 340-4435