Chiropractic Care
How Chiropractic Helps the Body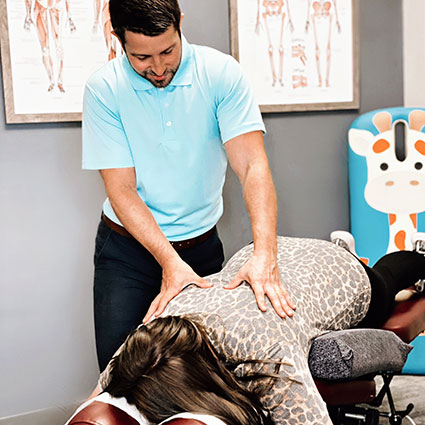 Many people think that chiropractic is just something to help with back pain and neck pain. Chiropractic care is based on the premise that the power that made the body heals the body. Your body possesses everything it needs to heal itself from within, naturally. Chiropractic care removes interferences from the nervous system so that your body can start moving in a healthy direction, improving health and functionality—far beyond just neck and back pain.
We see patients with a variety of issues. In kids, we are able to help with many so-called "normal" childhood ailments, such as
Colic
Ear infections
Difficulty latching
Torticollis
Digestive issues
Sleep problems
Asthma
Allergies
ADD/ADHD
Typical childhood bumps and bruises
For our pregnant moms, we help reduce pelvic, back and shoulder pain, headaches and migraines.
For patients of any age, we help by detecting where the nervous system interference is located. We provide specific, targeted care to correct the spinal misalignments that cause the interference. Then your body can itself, restoring optimal health and function.
Caring for Patients of All Ages
At Blue Wing Chiropractic, LLC, we are excited about helping entire families discover and maintain a healthy lifestyle. We treat people from a few hours old to over 100 years, with a special emphasis on pregnancy and pediatrics. We offer a variety of adjusting techniques so that we can provide the best possible treatment for each individual's specific needs. Our chiropractic "tool belt" includes the following:
Activator Method®
Diversified
Flexion Distraction
Thompson Drop
Webster Technique
We also offer soft tissue work to mobilize the tissues prior to your adjustment. This may include electric stimulation and light massage.
Finding Overall Health and Wellness
Helping people understand that chiropractic care is about promoting wellness—rather than simply treating symptoms—is our passion. We've seen so many success stories, and we want everyone to get the care they need to feel great and function as they should.
Get Your Health Back Today
Contact us today to get started!
CONTACT US
---
Chiropractic Care | (720) 340-4435