Meet Dr. Kendra Fitzke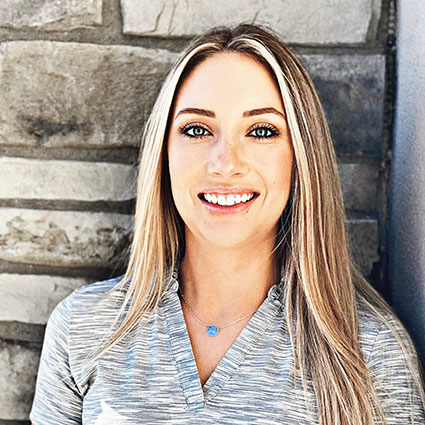 Discovering Her Mission
Dr. Kendra grew up in Cheyenne, Wyoming. As a high school sophomore, she got remarkable results from chiropractic care after a cheerleading injury. The experience convinced her she wanted to become a chiropractor. Her parents were pragmatic and suggested she learn more about the profession before investing time and money in schooling.
For the rest of high school and throughout college, Dr. Kendra worked at a local chiropractic office. She started as the smiling front desk person, then moved up into helping with patient care, doing ultrasound and e-stim treatments. The more Dr. Kendra learned the more she loved the profession. After graduating from the University of Wyoming (Go Pokes!!) with a bachelor's in kinesiology, she went on to Palmer Chiropractic College in Iowa. She received her Doctor of Chiropractic in 2018.
A Passion for Helping Patients
In school, Dr. Kendra discovered that her desire to become a chiropractor was even deeper than she imagined. She felt a passion for helping the patients she met and was humbled to have the skill and opportunity to make a difference in people's lives. She also met her future husband, Dr. Jonathan, at chiropractic college.
Over the years, Dr. Kendra has focused her practice on pregnancy and pediatric chiropractic care. She loves helping moms have the best pregnancy experience possible, and helping babies start out life as healthy and happy as possible. She is Webster certified, a Pediatric Experience (PX) practitioner, and is currently pursuing certification from the International Chiropractic Pediatric Association (ICPA).
CHIROPRACTIC CARE
Outside of Work
"Outside" is the operative word for Dr. Kendra. She grew up in the mountains, and she loves all that the outdoors have to offer, including hiking, kayaking, snowshoeing, snowboarding—and even riding around in the golf cart while her husband Dr. Jonathan golfs. Their dogs, Cooper and Nala, brought them together to begin with and later participated in their wedding, wearing a doggie tux and wedding dress. They can all be found doing adventures together when the humans aren't working.
Start Today
Contact Blue Wing Chiropractic, LLC today to book an appointment!
---
Dr. Kendra Fitzke | (720) 340-4435