New Patients at Blue Wing Chiropractic, LLC
Getting Started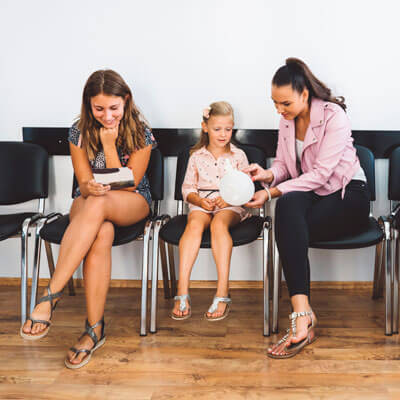 We know your life is busy and doesn't revolve around appointments at Blue Wing Chiropractic, LLC, so we try to make things as efficient and streamlined as possible. That includes having paperwork available for you to complete online, as well as offering an initial consultation via telephone or Zoom if that's your preference.
ONLINE FORMS

Your First Visit
Your first visit will last 30-45 minutes, and we ask that you wear comfortable clothing. Our cheerful front office staff will greet you warmly, then take you on a tour of our light, airy office so you and your kids know where everything is, including the bathroom and beverages. We want you to feel at home.
You'll then meet one-on-one with your doctor, who will provide every aspect of your care personally. We'll go over your health history, then conduct examinations and CLA INSiGHT™ scans, as well as digital X-rays, if needed. The INSiGHT scanning technology allows us to get a view of how your nervous system is functioning and where we need to focus our care. The scans take just a few minutes and are effective and safe for everyone, from newborns to patients in their 100s.
We may do some manual therapy the first day to help us get a baseline of where your body is and your range of motion, but your first adjustment will be at your next appointment.
Your Second Visit
At your next visit, which will generally be within 24-48 hours of the first, we'll review all of your exam and X-ray results with you on a big-screen TV so you can follow along as we explain everything. We want you to have a thorough understanding of what your starting point is, and what we want to accomplish through your personalized care plan. We want you to feel better and function better.
At this visit, you'll receive your first adjustment, as well as any soft tissue treatment you may need, such as electrical stimulation (e-stim) or light massage.
Start Today
Get on the road to better health today. Contact us today to schedule an appointment!
CONTACT US
---
New Patients at Blue Wing Chiropractic, LLC | (720) 340-4435